Glittered snowflake ornaments made from STYROFOAM™ Brand Foam.
Simple, easy ornaments you can make to add sparkle anywhere for the holidays.
Inspired by the large bead snowflake from Pottery Barn:
You could glitter these any color to match your decor.
Here's how I made the ornaments:


Supplies needed:
STYROFOAM™ Brand Foam:
– 1″ balls
– 1 1/2″ balls
– flat sheet goods (any size)
– Krylon spray glitter
– loose glitter
– wire hangers (& wire cutters)
– hot glue gun
– tiny measuring spoons or melon baller
1. Begin by cutting the wire hanger into pieces, one 5″ piece and 4 – 2 1/2″ pieces:
2. Prepare the smaller balls.
Using a metal measuring spoon scoop out a small ball shape from the flat sheet:
Dig down deep and then twist in a circular motion:
This is what comes out:
3. Take the ball and roll it between your hands like a meatball to smooth the edges and achieve a nice rounded shape:
4. Make at least 6 1/2″ balls and 6 3/4″ balls:
5. Begin assembly.
Use the 5″ wire piece and slide the balls on in this order:
(Use a drop of hot glue on the wire then slide the ball over the glue.)
6. Take the 2 1/2″ wire and poke into side of large center ball.
Add same balls into place.
7. Repeat on other side for equality:
8. Spray the glitter spray paint onto the balls, then sprinkle loose glitter onto the paint:
(Do this in sections over a scrap paper to collect glitter for re-use.)
9. Make a resting cradle for the center ball with straight pins to let paint/glitter dry:
10. Hang using ribbon and a straight pin glued into the outer most ball:
Ready for Christmas.
This project was recently part of the Handmade Holiday series at Under the Table and Dreaming: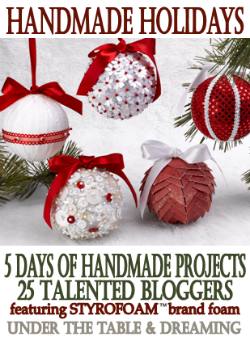 Check out all the STYROFOAM™ Brand Foam projects from the series, there are a lot of great ideas, especially using the cone shape for trees.
I was one of the few who made ornaments.
A little STYROFOAM™ Brand Foam can go a long way.
Disclaimer: The STYROFOAM™ Brand Foam materials used in this project were provided by The Dow Chemical Company. The opinions in the post are entirely my own and I have not been paid to publish this project.