My knock off alphabet art:
This is a baby gift for a couple who is having their first baby.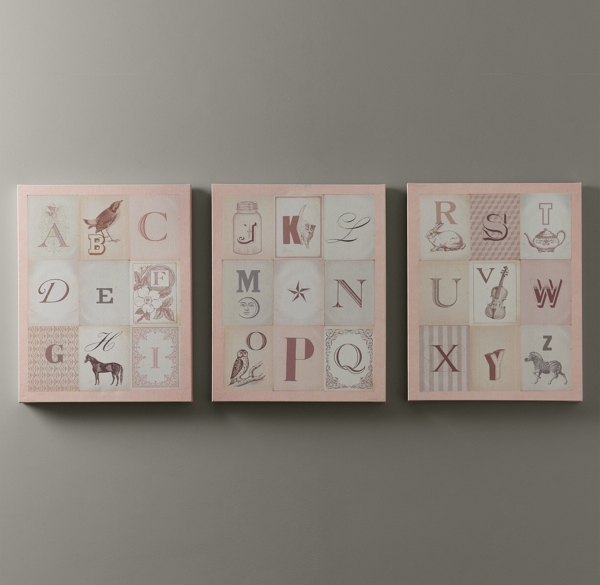 image from Restoration Hardware
Their version retails for $319 plus shipping.
(Plus it only comes in pink.)
My version is slightly smaller (9.5″w x 12.5″h) versus their (16″w x 20″h).
And their version is printed canvas, mine is wood and paper.
To see this project done in other colors check my post here.
I spent $1.99 on alphabet cards plus $.99 on sawtooth hangers.
I had the wood scraps, paint, stain and carpet tacks.
Total cost = $3. Yes that's a whooper of savings.
Here's how I made the alphabet artwork:
1. Purchased alphabet cards.
(Found mine at Michaels way back.)
2. Distressed edges of cards using brown stamp ink:
3. Layout cards and cut wood to size. I used 3/4″ plywood scraps cut to 9.5″w x 12.5″h.
4. Paint front and sides of wood pieces, two coats.
I used Martha Stewart rainwater.
5. Sand edges to distress.
Apply Minwax cherry stain.
6. Line up cards and nail into wood using #3 black carpet tacks:
7. Add sawtooth hanger to back of each panel.
As always thanks to the catalogs for great inspiration.
And now our friends will have some nice artwork for their first born's room.
I'm linking up to: